Imagine young Ahmaud "Maud" Arbery, a junior varsity scatback turned undersized varsity linebacker on a practice field of the Brunswick High Pirates. The head coach has divided the squad into offense and defense and has his offense running the plays of their next opponent. The coach, as is his habit, has been taunting his defense. "Y'all ain't ready," he says. "You can't stop us," he says. "What y'all gone do?" The next play, Maud, all 5 feet 10 inches and 165 pounds of him, bursts between blockers and—BOOM!—lays a hit that makes the sound of cars crashing, that echoes across the field and into the stands, that just might reach the locker room. It's a feat that teenage Maud also intends as a message to his coaches, his teammates, and all else that ain't hitherto hipped: Don't test my heart. Some of those teammates smash their fist to their mouth and oooh. Others slap one another's pads and point. An assistant coach winces and runs to the aid of the tackled teammate. And the head coach, well, he trumpets his whistle. "Why'd you hit him like that?" he hollers. "Save that for Friday. Let's see you do that on Friday."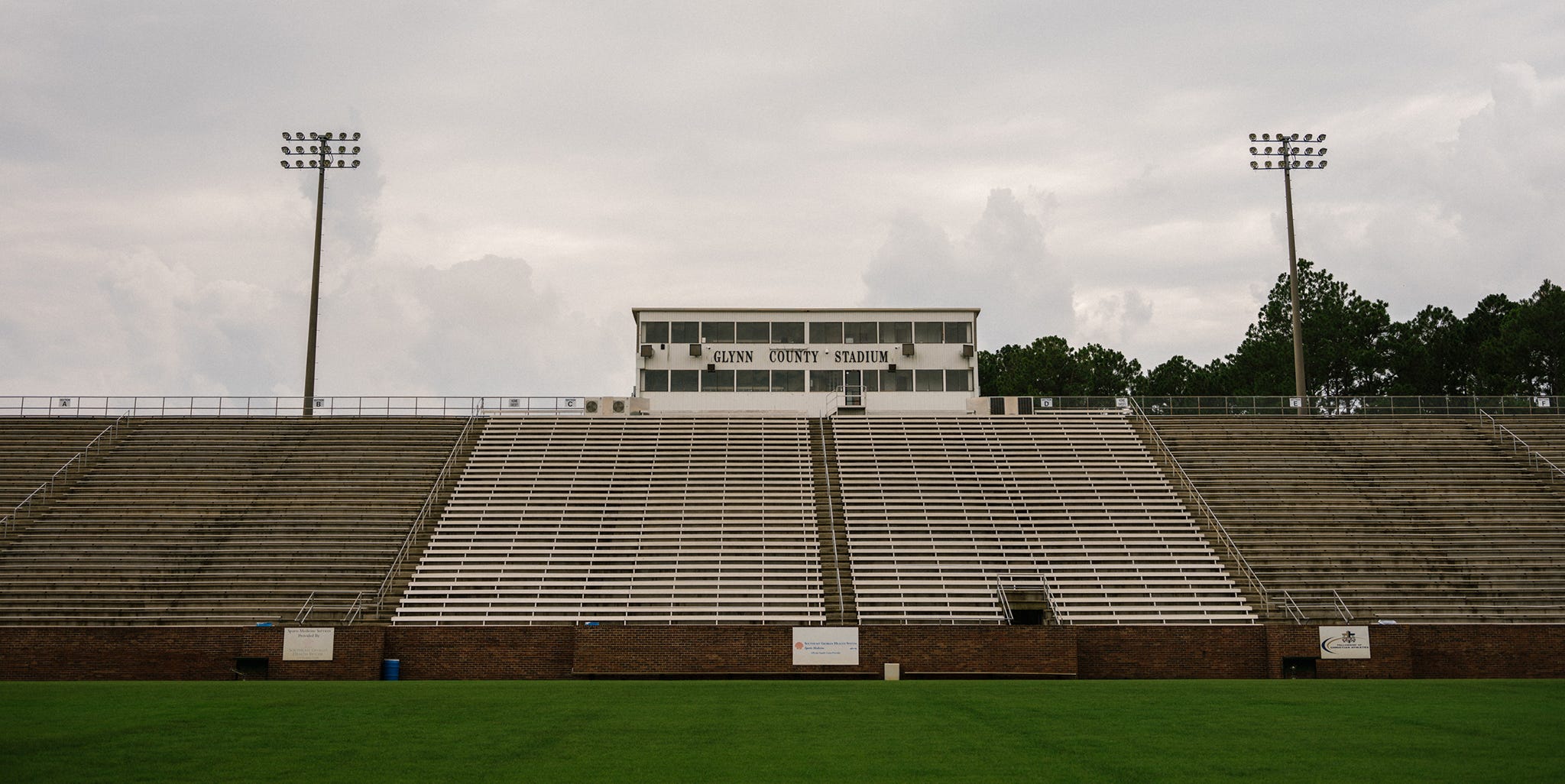 That Friday, in Glynn County Stadium (one of the largest high school stadiums in all of gridiron-loving Georgia) the Pirates, clad in their home white jerseys with blue and gold trim, huddle in the locker room. Maud, who wears high shoulder pads, a 2×4 face mask, and number 21 in honor of his brother, Buck, and his idol, famed Redskins safety Sean Taylor, swaggers into the center of his teammates and begins the chant he's christened into a pre-game ritual.
"Y'all ready!" he shouts.
"Hell yeah!" they shout.
"Y'all ready!" he shouts.
"Hell yeah!" they shout.
"Y'all ain't ready?!" he shouts.
"Sheeeeeit!" they shout.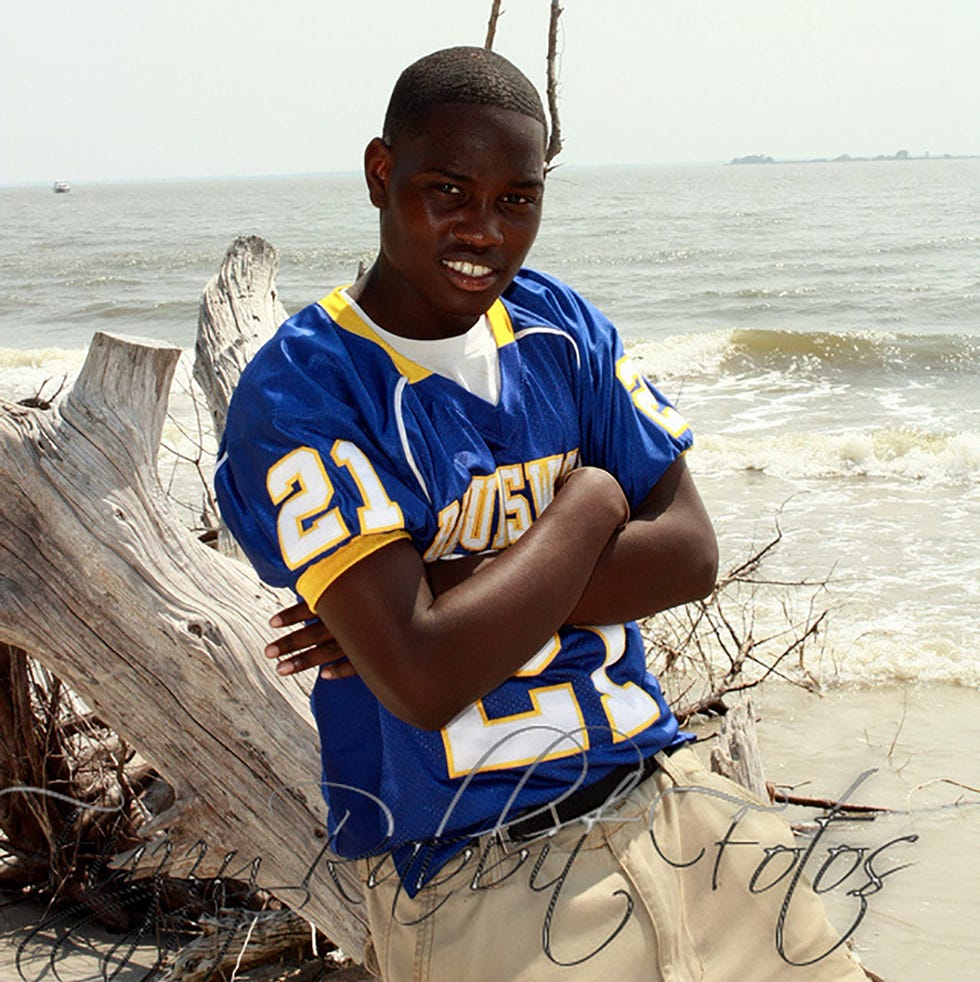 To applause that could be thunder, the team stampedes out of the fog-filled mouth of a blow-up tunnel onto the field. The school band plays the fight song and cheerleaders shake pom-poms from a row in front of the band. There's a raucous sea of blue and gold in the stands, including plenty of Maud's people. Game time, the opposing team calls the play that Maud put the fierce kaput on in practice, and beneath a metal-halide glare that's also a gauntlet, Maud barrels towards the running back and—BOOM!—lays a hit that sounds like trucks colliding. It's a noise that resounds across the field and into the stands, that just might ring all over Brunswick. The fans send up a roar but Maud trots to the sidelines almost insouciant. Jason Vaughn, an assistant coach who also coached Maud on JV, grabs him by his face mask. "Now that's how you hit," he says, tamping astonishment that a boy his size could hit that hard.
Sunday, February 23, 2020 | 1:04pm Time-stamped security footage from an adjacent home shows Maud, who's out for a run in Brunswick's Satilla Shores subdivision, wandering up a sunny patch of narrow road and stopping on the spotty lawn of a sand-colored under-construction bungalow addressed 220 Satilla Drive. There's a red portable toilet in the front yard. The garage is wide open.
Ahmaud, dressed in light-colored low-top Nikes, a white t-shirt, and khaki cargo shorts, loafs on the lawn for a moment before drifting into the building. The security camera records him inside the home, a brightened skeleton of beams and plywood and stacks of sheetrock and piping and wire. There are boxes of materials scattered about and a small forklift pushed in a corner. Maud doesn't touch any of those things. He looks around, gazes beyond the frame of the camera toward the river behind the house. Maybe he wonders what the home will look like when it's finished. Maybe he conjures an image of a family who could afford to live in a place so close to water.
Maud ain't the first person to wander onto the site. Its security cameras have recorded others including a white couple one evening and a pair of white boys one day. On four occasions, it also recorded what appears to be the same person: a slim young Black man with wild natural hair and tattoos on his shoulders and arms, a dude, that by my eye, don't resemble Maud. Let me add that the homeowner will confirm that nothing was stolen or damaged during any of the visits.
JOGGING, BY AND LARGE, REMAINS A SPORT AND PASTIME PITCHED TO PRIVILEGED WHITES.
Let me acknowledge that I am one of the rarest of Americans, one otherwise known as a Black Oregonian. As such, I feel compelled to share a truth about my home state: It's white. I'm talking banned-Blacks-in-its-state-constitution white. At the time that Bowerman was inspiring Eugene residents to trot miles around their neighborhoods in sweatpants and running shoes, Eugene was a stark 97 percent white. One could argue that the overwhelming whiteness of jogging today may be, in part, a product of Eugene's demographics. But if we're keeping it 100, the monolithic character of running can be credited to the ways in which it's been marketed and to the systemic forces that have placed it somewhere on a continuum between impractical extravagance and unaffordable hazard for scores of people who ain't white.
Matter of truth, around the time Bowerman visited New Zealand and published a bestselling book, millions of Blacks were living in the Jim Crow South; by 1968, Blacks diaspora-wide had mourned the assassinations of Medgar Evers, Malcolm X, and Martin Luther King Jr. And by the late '60s and beyond, the Blacks of the Great Migration were redlined into ever more depressed sections of northern and western cities, areas where the streets were less and less safe to walk, much less run. Forces aplenty discouraged Blacks from reaping the manifold benefits of jogging. And though the demographics of runners have become more diverse over the last 50 years, jogging, by and large, remains a sport and pastime pitched to privileged whites.
Peoples, I invite you to ask yourself, just what is a runner's world? Ask yourself who deserves to run? Who has the right? Ask who's a runner? What's their so-called race? Their gender? Their class? Ask yourself where do they live, where do they run? Where can't they live and run? Ask what are the sanctions for asserting their right to live and run—shit—to exist in the world. Ask why? Ask why? Ask why?