Germany Berlin
BMW BERLIN-MARATHON 2023
For the 5th time, Cerita Lari has been appointed as International Travel Partner for BMW BERLIN-MARATHON. We are happy to welcoming all Indonesia marathoners to join with us running in one of World Marathon Majors, that will be held on September 24, 2023.
Marathon Date
September 24, 2023
Duration
4 Days / 3 Nights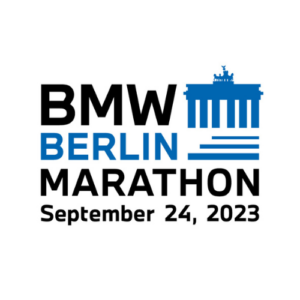 As part of Abbott World Marathon Majors race, BMW BERLIN-MARATHON is well-known as the fastest marathon race in the world where all marathon world records have been run in Berlin. The latest world record set in 2022 by Eliud Kipchoge (Kenya) at astonishing time 2:01.09
The race course is flat, mild weather around 11-19 C range which is very convenient for Indonesian runners. You will run across the city, passing by some of most iconic Berlin's landmarks and massive supporter crowd. Don't forget the Brandenburg Gate experience will be your unforgettable moment to finish this race.
Among Indonesian runner, the BMW BERLIN-MARATHON is mostly considered for virgin WMM and also considered as the best race to get your personal best.
Our

Marathon Packages
Unlock your best race experience with our premium Marathon Packages. Tailored for you, irresistible deals await
Single runner entry

Two runners per room.

GUARANTEED race entry

Timing chip

Finisher Medal

Finisher T-shirt

Medal engraving

Daily breakfast

Cerita Lari limited edition jersey
Get Now
Single runner entry

Room for one plus companion at no extra cost.

GUARANTEED race entry

Timing chip

Finisher Medal

Finisher T-shirt

Medal engraving

Daily breakfast

Cerita Lari limited edition jersey
Get Now
Accommodation
Crown Plaza Berlin Potsdamer Platz
Hallesche Str. 10-14, Friedrichshain-Kreuzberg, 10963 Berlin, Germany

This 4-star-Superior hotel in Berlin city centre is modern hotel located 10 minutes' walk from Potsdamer Platz and other sights are within close proximity.
500 m to Anhalter underground train station
1.8K to Brandenburg Gate [start & finish area of BMW BERLIN-MARATHON]
2.7K to Expo Berlin Vital at Flughafen Tempelhof [Race Expo]
International buffet breakfast is serving you every morning.
Friday, 22 September

[14.00] Check in hotel

[16.00] Go to Race Expo by train or taxi to collect you race kit. Don't forget to bring your passport.

[19.00] Have dinner and enjoy the city at night.

Saturday, 23 September

[06.00] Breakfast at hotel.

[10.00] Go to race expo for those who have not collected their race kit. Or you can go shopping or just enjoy the city.

[17.00] Carbo loading, find restaurant near the hotel

[20.00] Prepare your gear for tomorrow big day. Have an early sleep.

Sunday, 24 September

[06.00] Breakfast at hotel

[08.30] Walking together form hotel to Brandenburg Gate

[10.00 – 17.00] it's your marathon! Good luck!

[19.00] Don't forget to refueling after marathon. Get rest.

Monday, 25 September

[06.00] Breakfast

[12.00 ] Check out hotel. See you in the next race.
Frequently Asked Questions
Perhaps we already have what you're looking for! Refer this question and answers below to find your solutions. Otherwise, please don't hesitate to contact uss!
Our hotel to race village (start and finish area) at Bradenburg Gate is only about 1.7K . In the morning we will walk from hotel to race village where you can meet thousands of runners also walking to the same direction. After you finish marathon, you can either walking back to hotel, or taking subway train from Bradenburg Gate.
Yes, we will arrange to collect race pack at marathon expo together in group. We will also arrange group shake out run - Thursday and/or Friday morning - for the group. This is your chance to check with weather, testing your outfit, and enjoy the vibes of finish area. Please check itinerary for the schedule.
Yes you can request for additional night, before and/or after the package period. Please check to Cerita Lari for the price and availability.
Yes we can help you to apply the visa. Please contact Cerita Lari about the service and what document you need to prepare for visa application. Please be note that the approval / rejection of visa application is full rights of the Embassy. What Cerita Lari can help is to ensure that you submit all the documents correctly so the chance your application to be approved will be high.
No you cannot. Cerita Lari's contract with the race is only applied for the current year, meaning that the entries we have for this year cannot be used for the next year.
Race entry for 1 runner
Includes
GUARANTEED race entry

Timing chip

Finisher Medal

Finisher T-shirt

Medal engraving

Daily breakfast

Cerita Lari limited edition jersey
Excludes
Flight ticket

International travel insurance

Visa to Germany

Airport transfer

Local transportation

Personal expense (lunch, dinner, mobile phone, etc)